preparation time: negligible
cooking time: 4.5 minutes
emergency contact: wil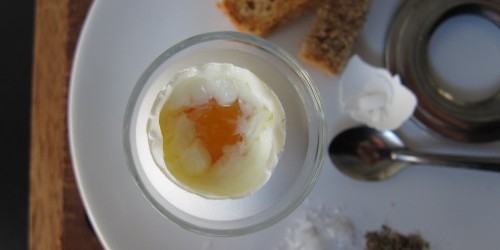 eggs – 2
good toasting bread
butter
salt & pepper
Set a pot of water to boil (lid on). In the meantime, remove your eggs from the fridge and place in a bowl of warm water from the tap. When the pot starts boiling, gently lower the eggs in with a heat-proof spoon. Turn the heat down a bit and let the eggs cook for 4.5 minutes (lid off).
Toast bread. When the eggs are done, remove them from the pot and set in egg cups. Butter the toast, cut into toast fingers, crack open the eggs and dip in.
Note: If you want the yolk to be more cooked but still liquidy (i.e., more viscous in the middle, almost solid at the interface with the white), leave the egg in for 6 minutes. 8.5 minutes will give you a hard-boiled egg.