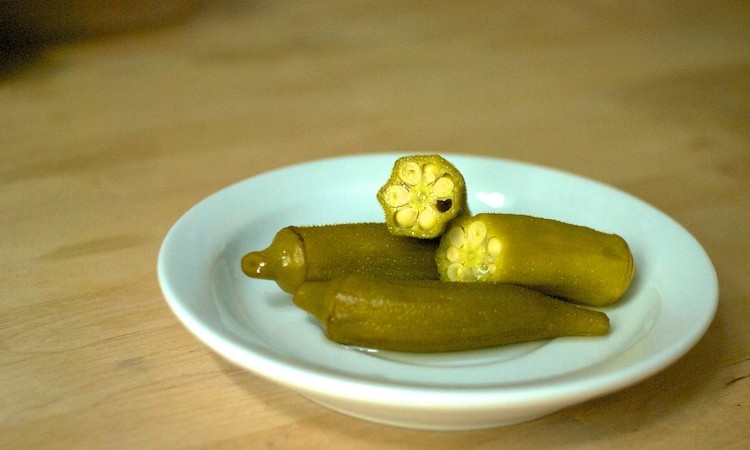 Above is some very tasty quick-pickled okra from Wholefoods. Below is a basic, quick pickle recipe adapted from that of a farmer at the Louviers market in Normandy.
tiny cucumbers (finger-sized is best) – 1 lb
coarse salt – 2 Tbsp
tarragon – 1 large sprig
shallot, cut in quarters – 1
small pearl onions, peeled – 1/2 cup
peppercorns – 10
cloves – 3
bay leaf – 1
white vinegar – 3 cups
In a large bowl, toss the cucumbers with the salt. Turn them out into a tea towel. Gather the corners of the tea towel and hang it from the tap over the sink for 2 hours, or set the cucumbers in their towel in a strainer in the sink.

Place the tarragon in a clean quart jar. (Some sources say that sterilizing isn't necessary for quick pickles since they aren't meant to be kept longer than 10 days; if you want to be very safe, place the jar in boiling water for 30 seconds.) Evenly layer the cucumbers with the shallot, onions and the other herbs until they reach about 2 cm below the top of the jar. Bring the vinegar to a boil and pour it over the ingredients in the jar, making sure to cover them, and leaving about 1.5 cm headroom. Seal the jar.
Place the jar in a cool, dark spot or in the refrigerator for at least a day before eating. Quick pickles keep in the fridge for 10 days.
Endnotes
Some quick pickle recipes call for the addition of sugar and/or for diluting the vinegar by up to 3 parts water to 1 part vinegar (something one cannot do when making traditional winter storage pickles meant to last for many months, because for these, a very specific acidity level is required to avoid botulism and the growth of other dangerous bacteria). Pretty well any type of vinegar works fine for quick pickles except for balsamic, which is too syrupy (substitutions are also not recommended for storage pickles, unless one is sure that the acetic acid content of the two vinegars is equivalent). In case anyone wants to try reproducing Brooklyn Brine products as quick pickles, here are the ingredient lists of some favourites:
Fennel Beets: beets, red wine vinegar, water, sea salt, cane sugar, garlic, spices (tarragon, mustard seeds, coriander, fennel seeds, black peppercorns, chile flakes)
Chipotle Carrots: carrots, apple cider vinegar, water, sea salt, cane sugar, chipotle peppers, garlic, spices (mustard seeds, coriander, smoked paprika, black peppercorns, chile flakes)
Moroccan Beans: green beans, not sure what type of vinegar, water, sea salt, cane sugar, garlic, spices (mustard seed, cumin, coriander, plus some unidentified)