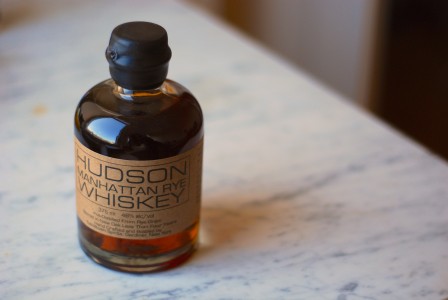 Tuthilltown Spirits is a small batch distiller in the Hudson Valley. Founded in 2003, it is the first producer (the first legal one, at least) of aged grain spirits in New York state since Prohibition. The distillery, nestled behind the old Tuthilltown Grist Mill (now a restaurant) in Gardiner, makes for a perfect day trip or weekend destination from New York. We enjoyed the tour, which takes visitors through the entire process from grain to whiskey, and were particularly impressed by the olfactory intensity of the fermentation room and the beauty of the copper stills. Other than a six-spigot filling apparatus, bottling is a pretty manual affair – corking, wax-sealing, inspection, and labelling are done by hand.

The tour ends in the tasting room, where we sampled the Hudson Four Grain Bourbon (blend of corn, rye, wheat and malted barley), Baby Bourbon (single grain, 100% New York corn) and Manhattan Rye, and the unaged Tuthilltown Half Moon Orchard gin. We missed out on the Hudson New York Corn, a clear, unaged whiskey that is the foundation for the Baby Bourbon. The rye and gin were a pleasant surprise, but in terms of bourbon, there's no reason to choose the Four Grain over the Baby.
To round out our stay, we visited some 300 year old Huguenot houses, tried a few local beers at the Gilded Otter Brewery (careful! noisy website) and ate dinner at the unfortunately named but culinarily spot-on Rock & Rye Tavern, all in neighbouring New Paltz. We also ventured up to Lake Minnewaska for a bracing walk and a fascinating geology lesson. The Minnewaska Lodge provides a good base for an overnight stay in the area – just outside of New Paltz and Gardiner, comfortable rooms, nice common area with tea and coffee all day, a spectacular view of the Shawangunks and right across the street from a German-American restaurant called Brauhaus that the Lodge manager reports has yet to disappoint (we did not try it).
A limited selection of Hudson Whiskey products are available at Cask in San Francisco, who also ship to selected states (this is where we first saw the Baby Bourbon), and the LCBO in Ontario. For the full line of whiskeys as well as the Tuthilltown gin and vodka, you will have to visit the distillery shop in person.