preparation time: 20 minutes
cooking time: 40-50 minutes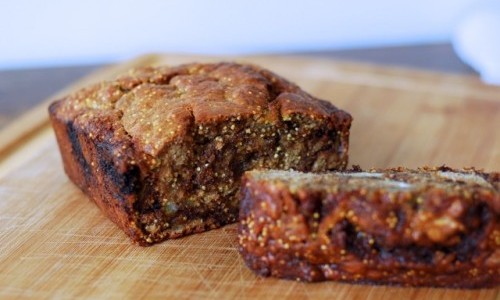 There is no shortage of excellent banana bread recipes out there. This one doesn't necessarily improve on the banana bread experience, but it is a relatively healthy version that makes for a great breakfast-on-the-run option. It's a one-bowl deal, which is good for lazy bakers. Plus, it's crunchy (we have a few fans of crunch in the family).

ripe bananas – 3 large
egg – 1 large
olive oil – 1/3 c
brown sugar – 1/3 c
maple syrup – 1/3 c
vanilla extract – 1 tsp
baking soda – 1 tsp
salt – 1/2 tsp
cinnamon – 1 tsp, ground
nutmeg – 1/4 tsp, freshly grated
dark chocolate chunks – 1 c (optional)
flour – 1  1/2 c (white whole-wheat works well, could replace some with rye or barley flour)
millet – 1/4 c, uncooked
granulated sugar – 1 tsp (optional)
Preheat oven to 180C/350F and butter a 9×5-inch loaf pan.
Mash up bananas in a large bowl until smooth with a few lumps. Whisk in eggs, then the rest of the liquidy ingredients, including the brown sugar. Sprinkle in baking soda, salt, spices and stir until just combined. Stir in flour and millet, again until just combined. Stir in chocolate chunks if using.
Pour the batter into the loaf pan. If you want a glossy, crackly top, sprinkle over a spoonful of granulated sugar (see below left compared to un-sugared, below right). Bake for 40-50 minutes (until tester pulls out clean). Cool in pan on rack.
This banana bread keeps well at room temperature in an airtight container for up to one week. Well wrapped in plastic, it can be frozen for a month or two.