preparation time: 10 minutes
cooking time: 55+ minutes
emergency contact: camille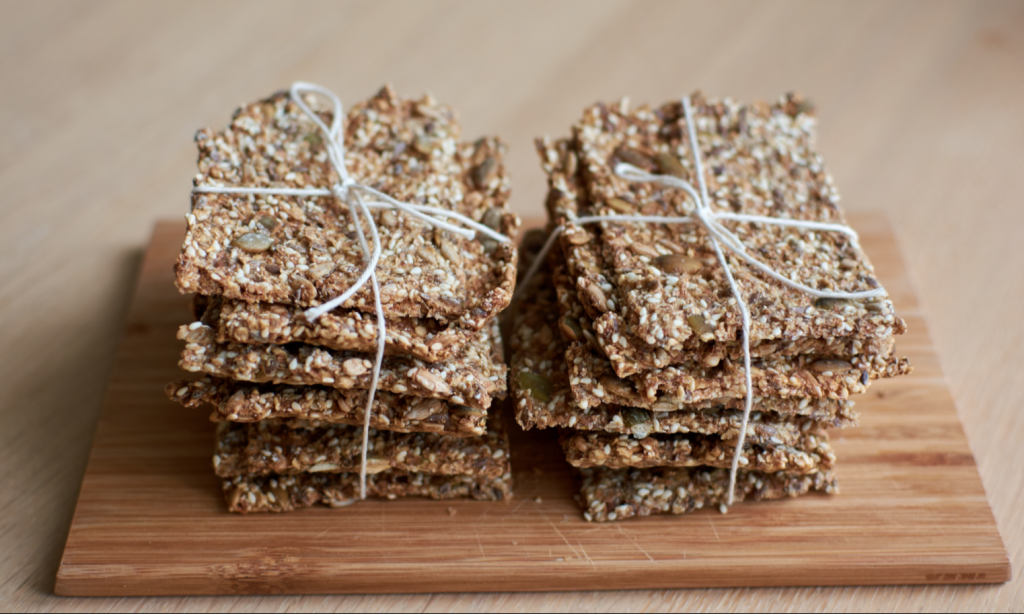 Knekkebrød (crispbread) is eaten throughout the day in Norway — for breakfast, for lunch, with brown cheese or kaviar as a snack, and even at that odd fourth meal they squeeze in before bedtime because dinner was finished hours ago around 5 pm. They are quick to make, infinitely versatile, healthy, satisfying, and keep for several weeks once they are baked.

There's no specific recipe – just use whatever seeds and nuts you have handy in approximately the proportions indicated below, and you'll end up with a pan of crackling, toasty crispbread that goes well with everything. The official measurements are by weight; there's a rough guide by volume, but this will give more variable results depending on the exact combination of seeds and nuts used.
The basic ingredients are:
coarse flour* – 135 g (1 cup)
quick-cooking oats – 135 g (1 1/2 cups)
seeds and nuts** – 320 g (2 1/4 cups)
sea salt – 1 1/2 tsp
maple syrup or honey – 1 Tbsp
water – 600 mL
* wheat, spelt and rye have been tested with good results
** pumpkin seeds, sunflower seeds, almond flakes, roughly chopped walnuts or pistachios, flax seed, sesame seed, hemp hearts, etc.
A favourite combination at Leacock is:
coarse rye flour – 135 g
quick-cooking oats – 135 g
wheat bran – 25 g
sesame seeds – 40 g
hemp hearts – 30 g
flax seeds – 45 g
pumpkin seeds – 80 g
almond flakes – 50 g
pistachios – 50 g, roughly chopped
sea salt – 1 1/2 tsp
maple syrup – 1 Tbsp
water – 600 mL
Preheat oven to 180C/350F or 170C/335F convection (convection is highly recommended for more even baking).
Line two sheet pans with parchment paper.
Dissolve the honey or maple syrup in some hot water, then add cold water to make up a volume of 600 mL.
Measure out all dry ingredients into a large mixing bowl. Pour in the water and stir well. Let sit a minute for the water to soak in. Don't let it sit too long, or the entire mixture will turn into something resembling wet concrete, making it nearly impossible to spread properly.
Divide the mixture between the two sheet pans and spread to the very edges with the back of a spoon or a spatula. Try to work quickly, and to make an even layer.
Bake for 10 minutes. Remove pans from oven and score into rectangles using a knife or pizza cutter (16 per sheet pan make good sized knekkebrød).
Bake for another 45 to 60 minutes, occasionally opening the oven door to let steam escape. If you are not using convection, alternate the pans about halfway through. Check frequently near the end of the baking time and remove the pans when the knekkebrød are brittle and nicely toasted. You may want to reduce the oven temperature near the end if the knekkebrød seem to be burning in some spots, but still moist in other spots.
Break the knekkebrød apart once they are cool enough to handle, then let them cool completely on a rack. They should keep for several weeks stored in a tightly sealed tin or plastic container.