preparation time: 20 minutes
cooking time: 30-40 minutes
emergency contact: camille
This crumbly, savoury loaf is meant to be served with apéritifs, but is great for any-time snacking. You can substitute in any of your favourite ingredients: almonds, pecans, pine nuts, olives, diced ham, bacon, chopped jalapeños. Anything goes really. The original recipe was inherited from the Rondenays (acquired via family friends who live in the south of France), but has been tweaked, with inspiration from David Lebovitz.
flour – 150g (1 1/4 cup)
baking powder – 1 Tbsp
fine sea salt – 1/2 tsp
chile flakes – 1/2 tsp
eggs – 3 large, at room temperature
whole-milk yogurt – 150 g (1/2 cup)
olive oil – 1 Tbsp
lemon zest
chorizo – 85g (3 oz), skinned and finely diced
sun-dried tomatoes – 6, finely diced
unsalted shelled pistachios – 100g (3/4 cup)
flat-leaf parsley – handful, chopped
sesame seeds – 3 Tbsp
butter – for greasing the pan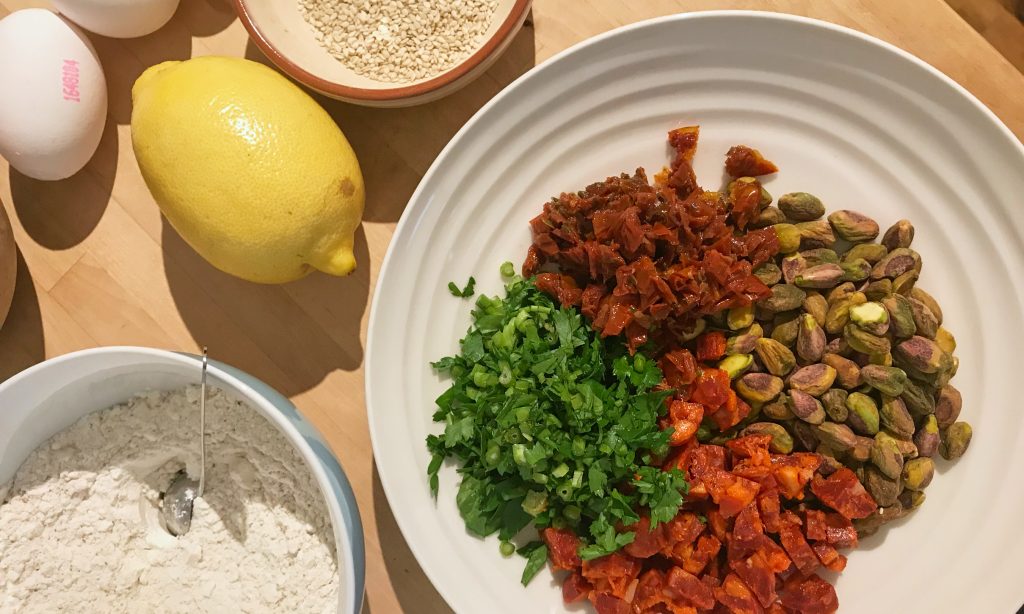 Preheat oven to 180C/350F or 170C/335F convection.
Butter a 9-inch loaf pan and sprinkle in 1.5 Tbsp of the sesame seeds, tilting the pan to distribute them.
In a small bowl, whisk together the flour, baking powder, salt, and chile flakes.
In a medium bowl, mix together the eggs, yogurt, olive oil and lemon zest. Sift the dry ingredients into the egg mixture, stirring until barely incorporated. Don't overmix.
Gently fold in the chorizo, tomatoes, pistachios, and parsley. Scrape the batter into the prepared pan, smooth the top, and sprinkle with the remaining sesame seeds.
Bake for 30 to 40 minutes, until the cake just feels set in the center. Let cool for 15 minutes, then tilt it out of the pan onto a cooling rack.
Storage: Leftover cake can be wrapped in plastic and will keep up to five days at room temperature. It also freezes well.