preparation time: 30 minutes
cooking time: 1 1/2 hours (1/2 hour active)
emergency contact: carol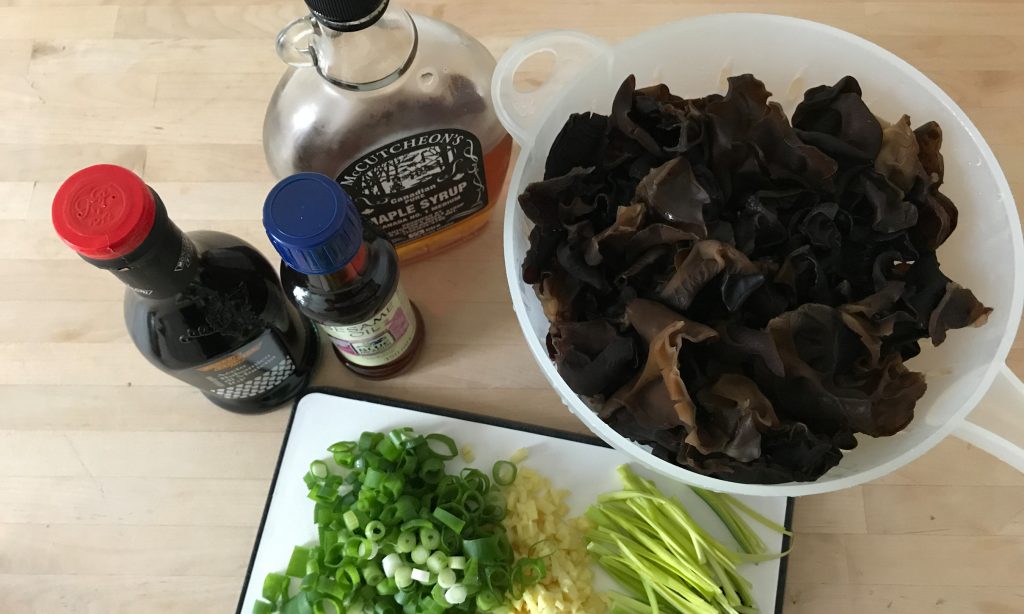 Quick and easy salad that keeps (and improves) for several days in the fridge. If you're out of maple syrup, you can substitute a mix of brown sugar and honey. Some slivers of leek are a nice addition as well.
dried wood ears – 3 cups
spring onions – 3 to 5
ginger – thumb-sized piece
shallot – 1 small
salt – 1 tsp
balsamic vinegar – 1/3 to 1/2 cup (according to taste)
maple syrup – 1/4 cup
water – 1/2 cup
sesame oil
Soak wood ears in hot water until softened, about 30 minutes.
Rinse the wood ears 3-4 times, until the water runs clear, then drain in a colander. If the wood ears are very large, cut or tear them up into bite-sized pieces.
Boil a pot of hot water and cook wood ears for 5 minutes. Remove and drain.
Dice a few spring onions, a knob of ginger and a shallot. Heat up some vegetable oil in a pan. Add onions, ginger and shallot plus salt and saute for a a few minutes.
Add the 1/2 cup water, plus balsamic vinegar and maple syrup. Lower heat to medium, add wood ears, and lots of sesame oil. Cook for 15-20 minutes, then take off heat. Let cool a bit, then refrigerate.
Serve directly out of fridge, adding some slivers of spring onion and additional balsamic vinegar or sesame oil if desired.