preparation time: 10 minutes
marinating time (optional): 30 minutes to several hours
cooking time: 45 minutes (5 minutes active)
emergency contact: camille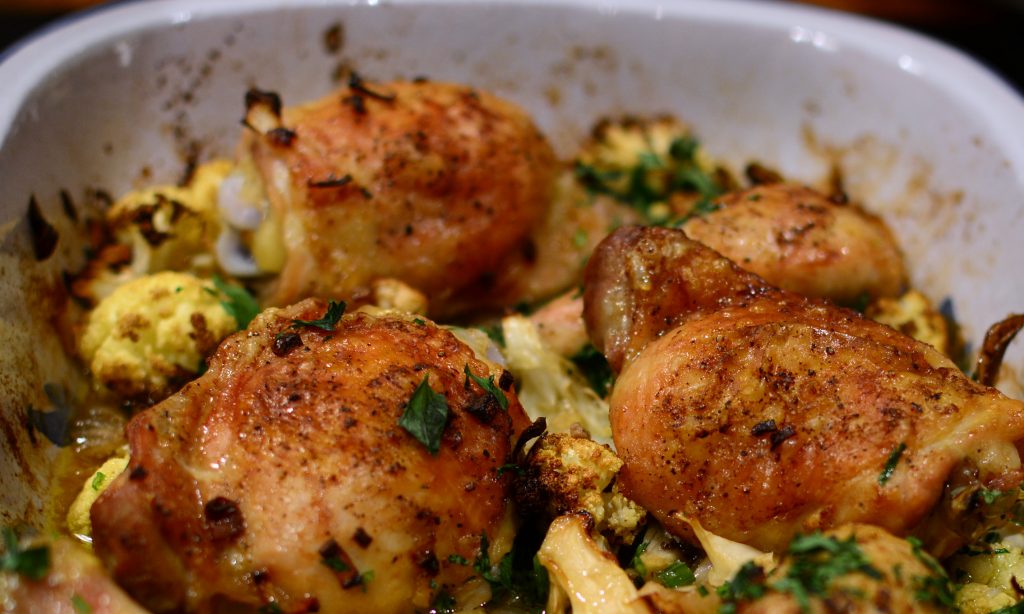 This recipe has been one of the finds of the pandemic. It requires only a few ingredients that are always on hand, and could not be simpler to prepare – if you launch the rice cooker before starting, and do a quick veggie dish while the chicken is in the oven, then you'll be tucking into a delicious dinner in less than an hour. You can even throw the veg directly in with the chicken, as shown above, with a bit of additional olive oil and salt.
Here, we use legs or thighs, but you can easily do this with a whole chicken broken down into 6 or 8 pieces – as long as someone is willing to eat the white meat. There is also an option to substitute lemon for the red wine vinegar. As written, the recipe feeds four normal adults or two Hazels, and can be halved for smaller appetites or groups.
chicken – 8 thighs or 4 legs, separated (bone-in with skin)
shallots – 4 to 5, minced
olive oil – 4 Tbsp
red wine vinegar – 4 Tbsp
soy sauce – 2 to 3 Tbsp
fine sea salt – 1.5 tsp
freshly ground pepper
optional: lemon, ground coriander, parsley

Preheat oven to 200C/400F.
Place chicken, shallot, olive oil, vinegar, soy sauce, salt and pepper in a baking dish large enough to hold the chicken in a single layer. Optional additions at this stage include ground coriander seed and a half lemon or whole lemon, zested and cut into pieces. If you decide to leave out the vinegar, use a whole lemon. Mix to coat all the chicken, then arrange the pieces in a layer with the skin side up.
If you have time, cover the baking dish and place it in the fridge for anywhere from half an hour to several hours. This step is optional, but will give the chicken more flavour.
Roast in oven for 20 minutes. Take out and baste chicken pieces with the sauce, then return to oven for another 20 to 30 minutes or until the skin is crispy. If your baking dish can take high heat, put the broiler on for the last 2 to 3 minutes.
Remove from oven, toss with chopped parsley, and serve.
See below for variations using a whole chicken broken down and a half portion using 2 legs with the thigh and drum separated.