preparation time: 45 minutes
simmering time: 2.5-3 hours
emergency contact: stéphane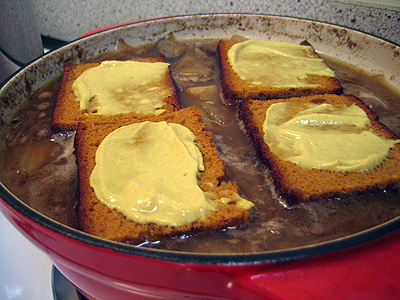 Carbonade flamande is a Belgian dish of beef stewed in beer and flavoured with pain d'épice, a type of spiced honey cake similar to, but not quite as sweet as, gingerbread. It is sort of the boeuf bourgignon of the north. Traditionally, carbonade flamande is made with a bière de garde or "keeping beer" (like Jenlain Ambrée), a style of beer characterized by medium hops and a toasted malt aroma. This version uses the Abbey Ale made by Ommegang, an excellent brewery in Cooperstown, New York that produces Belgian style ales. If you use Jenlain, increase the amount of cassonade or brown sugar to 4 Tbsp. Most recipes call for saindoux (pork fat), which has been replaced here with bacon.
stewing beef – 1.5 kg cut into cubes
….. suggested cuts: brisket or chuck (jumeau ou macreuse)
bacon – 4 thick slices (substitute 2 pats of butter)
onion – 3 medium, diced
flour – 5 Tbsp
red wine vinegar – 4 Tbsp
Ommegang Abbey Ale – 1.5 L (substitute other malty amber beer)
beef stock – 0.5 L
cassonade – 1 Tbsp (substitute brown sugar)
pain d'épice – 6 slices (substitute a not-too-sweet gingerbread)
Dijon mustard
laurel
thyme
salt and pepper
Cut bacon into pieces and brown in a Dutch oven or heavy pot. (If using butter, melt in pot.) In small batches, brown the cubed stewing beef on all sides for 8 minutes over medium heat. When the last batch has browned, return all beef to the pot. Sprinkle with a little salt, add the flour and onions, stir, and cook for 5 minutes. Deglaze with vinegar. Add the beer and beef stock, stir and bring to a simmer.
Once simmering, add the cassonade or sugar, thyme and laurel. Spread a generous spoonful of mustard on each slice of pain d'épice and lay on top of the stew. As the stew cooks, the pain d'épice will dissolve into it. Lower the heat and simmer, uncovered, for 2.5 to 3 hours until the beef is very tender and the liquid has thickened into a velvety sauce.
Season to taste and serve with fries or roasted potatoes and a salad.
Serves 4 with some leftovers.