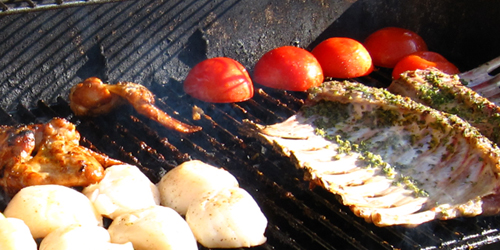 A few food notes from the Kwan/Lee visit. How appropriate, given what the return suitcases are holding…
(Side note: So far, it's been a good summer for grilling in Toronto. Let's hope the weather holds until Labour Day.)
1. Korean
Galleria Supermarket
For Korean short rib wraps: perilla/shiso leaves, red soy bean paste (it seems that some boxes were labelled "doenjang" and others "tenjang"), bulgogi or kalbi marinade
For snacking: seasoned file fish rounds
2. Gelato
Il Gelatiere Artigianale, 647 Mount Pleasant Rd. (at Hillsdale), 416-488-2663
The favourites so far are pistachio, chocolate hazelnut and grapefruit (pompelo). They also carry fruit jewels ($0.50 each, similar to the pâtes de fruit from Rahier, but not as moist), fruit-shaped marzipan ($2 each) and mini cones imported from Italy ($1.50 for a stack of 10).
3. Cheese / Fromage / Ost
The cheeseboards for the two Saturday dinners (here's the second) were primarily from McEwan's grocery store at the revamped Don Mills Centre:
Chabichou (Poitou-Charentes; soft; unpasteurized goat)
Fleur en Lait (Ontario; semi-soft, washed rind; cow)
Reblochon (Savoie; soft, washed rind; unpasteurized cow)
Rove des Garrigues (Languedoc-Roussillon; natural rind; goat)
Saint-Agur (Auvergne; blue; cow)
1608 (Québec; semi-firm, washed rind; unpasteurized cow)
supplemented by a few Norwegian "specialties":
Jarlsberg
and the infamous brunost (brown cheese)
4. Fish
We tested Andreas Viestad's recipe for cured salmon (the DVD is available for loan from the Leacock video library). The method is hassle-free compared to the usual one, and the result was a more traditional, saltier and drier Scandinavian-style gravlax.
5. Cookies
Finally, a comment on the metric version of Dorie Greenspan's World Peace Cookie recipe. This yielded a more crumbly dough, and the final product was a slightly denser cookie, but Lisa approved them and Coco and Tasha had no complaints. The biggest difference was quantity of flour (less used if measured by cups than by grams).