preparation time: 15 minutes
cooking time: 10 minutes
emergency contact: amy
eggs
salt
sugar
soy sauce
corn or vegetable oil
seafood (clams or dried shrimp are best, fresh shrimp works fine, and for a non-seafood version, sprinkle toasted prosciutto bits on top)
If using clams, rinse them thoroughly and let them sit in a bowl of cold water in the fridge to allow them to de-grit themselves. If using dried shrimp, soak for 10 minutes in hot water. If using fresh shrimp, peel and mince and season with a bit of salt and sugar. Set up a steamer with a rack and start heating up the water.
Crack the eggs into a shallow pyrex baking dish (use 3 eggs) or bowl (use 5 eggs) and beat. Add soy sauce (~ 1.5-2 Tbsp), salt, a pinch of sugar, 1.5-2 tsp oil and mix. Add hot water of a volume about twice that of the original volume of egg, add cold water of about the original volume of the egg and stir. Finally, add the seafood. The mixture should at this point have a fairly low viscosity.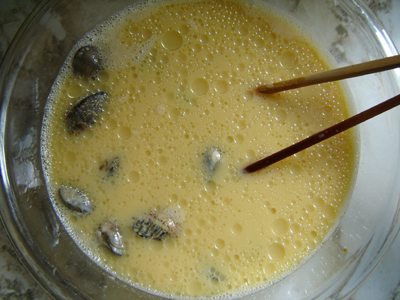 Cover the dish with foil, pierce foil with a few times with a fork, and place the dish in the steamer. Steam over simmering water for 20-25 minutes until egg has set. Don't use too vigorous a boil else the soufflé won't have a smooth texture. Sprinkle some sliced green onions and drizzle some soy sauce on top before serving. Quantities may be scaled up or down, but the cooking time shouldn't change much.