preparation time: 15 minutes
cooking time: 45-50 minutes
emergency contact: not even necessary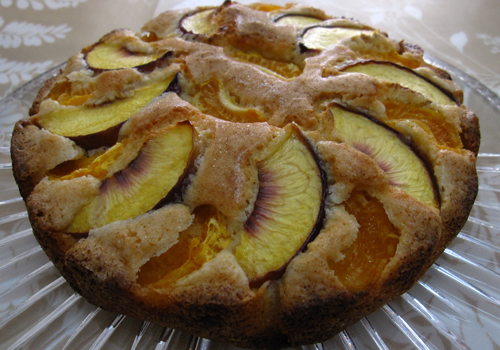 This is also known as "Hazel's cake" (because she can eat half of it in one sitting), or "Amy's welcome home cake" (because there was one made for afternoon tea each of the 4 days following her return from Saint Mike's). Perfect for non-bakers, as it requires only one bowl, a whisk and some sort of cake or loaf tin. No beating, no sifting, no adding dry ingredients to wet… no brainer. See more photos here and here and here.

all-purpose flour – 1 cup
baking powder – 1 tsp
sugar – 1/2 cup
olive oil – 1/2 cup
eggs – 2
pinch of salt
lemon or orange zest
vanilla
soft fruit (berries, stone fruit, mandarin slices)
Preheat oven to 175C/350F (if using the Leacock oven, preheat to 370F).
Butter an 8-inch baking tin and line the bottom with parchment paper.
Put all the ingredients except the fruit into a bowl and whisk until smooth. Pour the batter into the prepared baking tin and smooth with a spatula. Place fruit on top and sprinkle 1 Tbsp (or more if using very tart fruit) of granulated sugar over everything.
Bake for 45-50 minutes (45 minutes in the Leacock oven) until a toothpick inserted in the centre comes out clean. If you use a different-sized tin, the baking time will vary. Do NOT overbake, because this cake dries out quite easily. Remove tin from oven, let cool 5 minutes, then turn out onto a rack or plate to cool completely.
This cake doesn't keep very well, so best to eat it all up the same day. It shouldn't be too difficult as these quantities produce a relatively small cake.