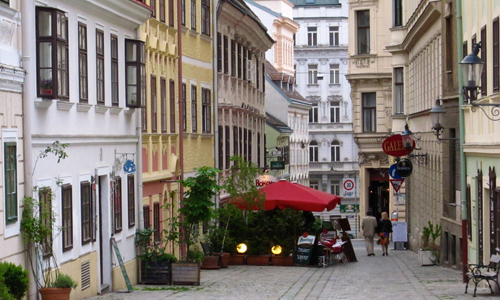 Eating and drinking
Hollmann Salon, Grashofgasse 3/Heiligenkreuzerhof, near Stephansplatz, tel: +43 1 96 11 960.40. Tucked away in the extraordinarily lovely Heiligenkreuzerhof courtyard of Vienna's old town, this place has an indescribable atmosphere and fantastic food. The menu changes frequently and revolves around local, seasonal (mostly organic) products and an array of fresh baked breads. The Zisterzienser monastery that owns the building closes up the courtyard by 11 pm, so last orders are early (around 9 pm). Reservations strongly recommended and easy to make online. If you have one meal in Vienna, you wouldn't go wrong with Hollmann.
Pöschl (formerly Immervoll), Weihburggasse 17, near Stephansplatz, tel: +43 1 513 52 88 01. Great food, mostly traditional Austrian fare but updated and done quite nicely (e.g., wiener schnitzel served with the customary erdäpfelsalat (potato salad); a surprisingly tasty rice dish with chunks of tender pork called Reisfleisch; fried chicken livers; some sort of trout called saibling). Other offerings sampled and greatly enjoyed: the generous cheese plate, arugula salad with avocado and prosciutto. Good wine selection including an excellent Blaufränkisch Steinriche. The space is cosy and welcoming, and there's outdoor seating in Franziskanerplatz, just 30 metres east of the restaurant itself. Reservations are a must if you want to eat at at normal meal times or if you have more than 2 people; otherwise, you can show up and wait.
Palmenhaus, Burrgarten, Hofburg Palace. Beautiful greenhouse restaurant, but the food is a little uneven. The upshot after 4 visits: the giant black olives are great; the whole pan-fried fish like branzino or goldbrasse (dorade) is quite good but the filleted fish is so-so; meat dishes are alright; in spring, the solospargel (large white asparagus) is really nice; the desserts in general did not impress, with the exception of the apple strudel. In nice weather, you can sit outside on the huge terrace overlooking one of the Hofburg gardens.

Kleines Café, Franziskanerplatz, near Stephansplatz. Tiny café with tables that spill out onto Franziskanerplatz. Perfect for a simple lunch, pastries or drinks.
Naschmarkt. Big, busy market. The shops close around 17:00, and the restaurants start opening around 19:00. Good spot for weekend breakfasts too.
Plutzer Bräu, Schrankgasse 2, Spittelberg (Museumsquartier). The Plutzer Brewery's pub with an outdoor terrace on a picturesque Spittelberg sidestreet. Good beer and hearty food.
Strandhaus, Naschmarkt, tel: +43 1 586 14 20-5, closed Sundays. Reliable seafood place in one of the Naschmarkt stalls.
Ristorante da Gino e Maria, Schleifmühlgasse 21, near Naschmarkt, tel: +43 1 587 45 70. Totally fussy, old school décor, totally amazing pasta.
Wunderbar, Schönlaterngasse 8, near Stephansplatz. Fantastic creaky old furniture, smoke-stained posters, cosy atmosphere. Be warned that you will smell like an ashtray when you leave.
Figlmüller, Wollzeile 5 or Bäckerstraße 6, (two locations, just around the corner from each other), near Stephansplatz. Their sign pretty well sums it up: "Unser schnitzel ist das Grösste." It's somewhat of an institution, and the schnitzel is good, but the one at Pöschl is better. Go before 19:00 to beat the rush, or make a reservation.
Café Sacher, Philharmonikerstraße 4, near the Opera. For the Sachertorte, of course. There seems to be a permanent lineup for a table, but you can buy cupcake-sized versions to go and find a nice bench on the pedestrian Kärntner Straße. They're alright but not mindblowing.
Demel, Kohlmarkt 14 just north of the Hofburg Palace. Never been inside, but have made repeated visits to the ice cream window.
Accommodation
Das Tyrol, Museumsquartier. A bit pricey, but very nice. Well decorated, lots of art (including a painting, hanging in the breakfast room, of a tomboy in cutoff shorts watching an Antonov taxi down a deserted runway), amazing breakfast (cereal, yoghurt, fruit salad, fix your own mimosas, cold cuts, cheese, pastries, eggs; drip coffee is decent but espresso drinks are a bit weak), internet access (ask for password at reception). Rooms feature complimentary Nespresso and tea, AC and turndown service with chocolate every night (they vary the sort, and sometimes you end up with a disappointing coconut truffle, but them's the breaks). Central location, just a few minutes by U-Bahn or a 15-20 minute walk to Stephansplatz, and a 5-10 minute walk to Naschmarkt. Airport access by CAT and U-Bahn (10-15 euros) is convenient if you're travelling light (about 35 minutes, but requires either 2 transfers to Museumsquartier on U2, or 1 transfer to Volkstheater on U3 and an extra 5-10 minutes (pleasant) stroll through the Museumsquartier itself). Otherwise, a taxi takes 25 minutes and costs 38-40 euros. (04/2009, 05/2010, 04/2011, 04/2013)
Spiess and Spiess, Stephansplatz. An oasis in the city centre. Friendly staff; excellent breakfast buffet and cooked-to-order eggs by the adorable Herr Spiess (the dining room can get crowded depending on the hour); clean, spacious (by European standards), comfortable rooms (some with garden views and balconies). There's a subway station minutes away, and you're really in the heart of the action, but there's no problem with noise because the pension is located just off the main street. Book early. (04/2012)
Courtyard Vienna Schönbrunn (Marriott), Schönbrunn. A little less charm, and a little further from the centre, but very decent rooms and good prices, with the added advantage of being right at the edge of the Schönbrunn Palace park and gardens. (05/2008)
Other tips
Vienna Opera on the Cheap: a very detailed and useful user's guide to getting last-minute standing room tickets
Volksoper Wien (People's Opera)