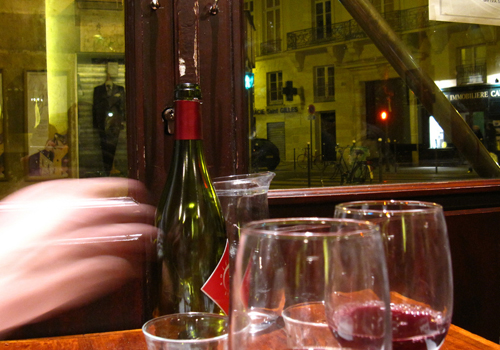 We tried out a neighbourhood bistro called Café des Musées on the eve of the third Thursday in November, the day on which French law decrees Beaujolais Nouveau may be released. Having already had a little Pineau at the apartment, we opted to skip the constitutional apéritif suggestions and ordered two starters to share: the house foie gras (15), mi-cuit and served with toasted levain bread and fig chutney, and a sautéed wild mushroom salad (10). Both were excellent, and served with a mix of impeccably fresh, perfectly dressed salad greens. The second course was nearly as good, the "nearly" reflecting our wild enthusiasm for the entrées rather than any criticism of the main dishes. We had an entrecôte (rib-eye) with hot, crispy French fries (18); a gibelotte de lièvre (fricassee of hare in white wine) served in a one-person Staub cocotte along with buttery, parsley-flecked noodles (19); and a parmentier gourmand de faisan (kind of a pheasant-filled shepherd's pie) with a beautiful swirly potato-y crust. The 2008 Il Fait Soif Côtes du Rhone (31) went down nicely with everything, but was a bit young. Food portions were generous enough that dessert was out of the question.
The menu featured a few other interesting winter game dishes, an échine de cochon noir de Bigorre served with pommes gratin (the rib of yet another special breed of black pig served with scalloped potatoes, which we will clearly have to go back to try), a vegetable cocotte (the guy at the "next" table, elbow-to-elbow with me, ordered it — it was pretty heavy on the leeks, didn't look very exciting, and he left about half of it), and oysters. There was also a prix-fixe (19) of potage de cresson (watercress soup), joue de boeuf ivre (drunken beef cheek) and choice of dessert.
One of the most surprising highlights? The staff. There were a couple of extremely pleasant young waiters, a cheerful Japanese-Canadian cook, and an older waiter with a gruff exterior who warmed immensely to us, apparently because of Nicole's frequent requests for updates on Les Bleus' all-important World Cup qualifying match.
Update 01/12: On a second visit, the foie gras (15) was as excellent, but the sautéed mushroom salad (10) not as much. The fish of the day — bar or sea bass — was the real standout (23), pan-fried and served with salad greens and julienned carrots and turnip. Nobody tried the prix-fixe (19), but it was tempting: choice of croustillant de confit de canard (duck confit-filled pastry) or spring salad as a starter, steak tips with quinoa, and choice of dessert. We sampled the quince crêpe and fondant au chocolat for dessert, and the latter was much better.
Café des Musées
49 rue de Turenne (3rd)
Tel: +33 (0)1 42 72 96 17
See Paris roundup for more Paris addresses.