preparation time: 30 minutes
cooking time: 12-15 minutes
emergency contact: valentia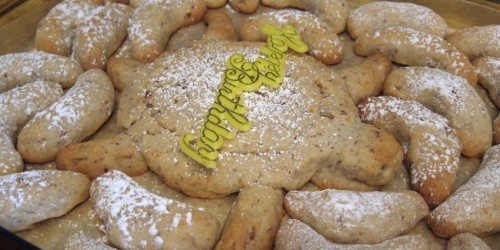 These crunchy, nutty crescents have been a holiday staple around Leacock since the days of the salmon spinach puff pastry and the mysteriously "Portuguese" curried chicken stew. In fact, it's almost unthinkable that the recipe has remained undisclosed for so long… although who really needs the recipe when neatly packaged tins of the finished product are regularly dropped off at the house? However, the ancient Word file (from back in the days when file names could not exceed 8 characters in length) was recently delivered to our inbox, so it seemed a good opportunity to share it.

butter or shortening – 1 cup
icing sugar – 1/2 to 3/4 cup, sifted
milk – 4 Tbsp
vanilla – 1 tsp
orange zest – from 1 medium orange
all-purpose flour – 2 1/4 cups
salt – 1/2 tsp
pecans – 1 cup, coarsely chopped

Glaze:
icing sugar – 3/4 cup, sifted
orange juice – 1 to 2 Tbsp
Preheat oven to 175C/350F.
Cream butter/shortening, adding sugar slowly. Beat in milk and vanilla. Mix in orange zest by hand.
Sift flour and salt into a separate bowl. Mix in nuts. Then stir flour mixture into shortening/sugar mixture. Mix well, then work with hands to form a smooth dough (it should be a little bit sticky).
Shape dough into crescents, about 1 tablespoon each. Place on ungreased baking sheet.
Bake for 12-15 minutes, or until lightly browned around edges. Cool. Makes about 4 dozen cookies, which can be frozen for longer keeping.
To glaze (optional), mix icing sugar with enough juice to make a smooth glaze. Spread over cookies.
Notes: If the nuts are chopped in the food processor, be careful not to make them too powdery, otherwise the dough will dry out quite a bit. These cookies are also nice plain or dusted with icing sugar. Strips of orange peel make a nice decoration on the glazed cookies.